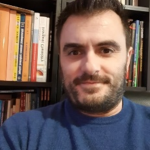 Dr Vassilios Binas is a Stavros Niarchos Research Fellow at FORTH/IESL. He received the Ph.D. degree from University of Crete in 2010, with the dissertation "Synthesis and Characterization of Novel Nanoporous materials for Adsorption and Catalytic applications". He has served as Visiting Researcher at Imperial College-UK (2015), International Institute of New Energy, Shenzhen, China (2014), International Research Center for Renewable Energy (IRCRE) School of Energy & Power Engineering, Xi'an, China (2014) and at Electronic Ceramics-K5, Institut 'Josef Stefan', Slovenia (2013).
His research interests focus on physicochemical properties of advanced materials and devices for environmental and energy applications. Particular emphasis is given on photocatalytic materials and devices for improved air, water and health quality, on gas sensors, on heterogeneous catalysis for solar driven water splitting / CO2 conversion and on printable electrochemical devices (SOFCs, gas sensors, supercapacitors etc).
He is co-author of more than 30 peer-reviewed papers and inventor on 2 patents. He won important scientific prizes and awards in Competitions of Innovation and Applied Research (>20) and gave more than 30 invited lectures including 1 Key-note in international scientific conferences and workshops. He has been selected as a next generation Young Researcher in Strasbourg on 2013 and 2017 at the 4th and 6th World Summit on Materials organized by the Int. Union of Materials Research Societies (IUMRS) and he is one of the two European Representatives in the Global Materials Network on Advanced Materials.